Introducing the United Airlines and Virginia Luxury Resort Collection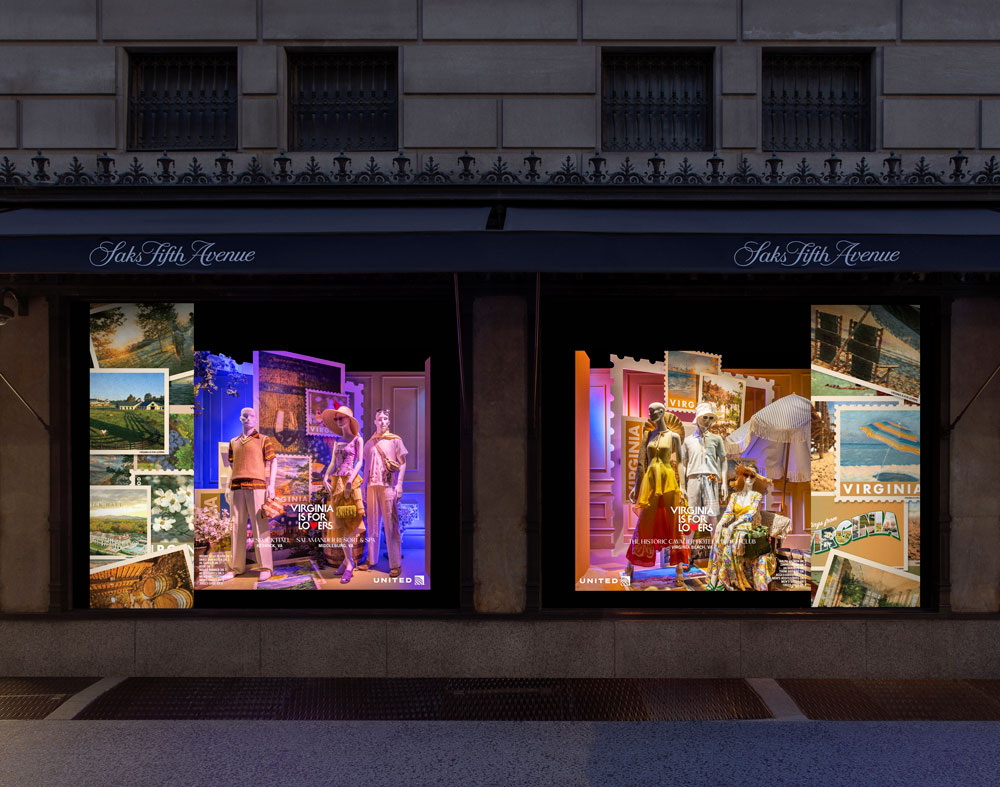 Photo courtesy of Luis Guillén for Saks Fifth Avenue
NEW YORK, NY – Virginia Tourism Corporation (VTC), United Airlines, and Saks Fifth Avenue have partnered together for the first time to introduce Virginia-inspired windows located at the Saks Fifth Avenue New York flagship store. The windows are intended to raise awareness of the exclusive United Airlines and Virginia Luxury Resort Collection and will be on display for two weeks beginning April 21, 2023 at the corner of 50th Street and Fifth Avenue.
"We are excited about the launch of this collaboration," said Rita D. McClenny, President & CEO of Virginia Tourism Corporation, "The premier destination for luxury fashion, Saks Fifth Avenue is the ideal partner to present our Virginia Luxury Resort Collection. In tandem with our outstanding partner United Airlines, the Virginia Luxury Resort Collection features the very best of our state's resorts and boutique properties that deliver a distinct type of elevated experience for today's discerning traveler."
Virginia's 15 Luxury Resort Collection properties provide United Airlines MileagePlus members with the opportunity to tailor their travel experience and define their own brand of luxury. United Airlines, as well as Virginia Luxury Resort Collection properties such as Salamander Resort and Spa, Keswick Hall, and the Historic Cavalier Hotel and Beach Club, are all represented in the windows.
"Virginia is an ideal destination for travelers hoping to reconnect with themselves and their loved ones," said McClenny. "A luxury vacation in Virginia serves up the opportunity to sip and savor fine wines, superior whiskeys, superlative oysters, and award-winning, farm-fresh cuisine."
Virginia Tourism Corporation has partnered with United Airlines for several years, supporting Washington Dulles International as a main hub for the airline and spreading the word through a variety of world-wide marketing programs designed to drive visitation to the beautiful state.
Visit virginia.org/united for more information on bespoke luxury packages.
About Virginia Tourism Corporation
Virginia is for Lovers is one of the most iconic and recognizable travel brands in the world. Using that powerful brand equity, Virginia Tourism Corporation (VTC) is charged with promoting the Commonwealth as a premier travel destination by showcasing all there is to love in a Virginia vacation. The dollars spent by travelers fuel the economy, provide jobs for Virginians, and improve communities across the state. Simply put, tourism helps make Virginia a great place to live, work, and visit. Learn more at virginia.org.