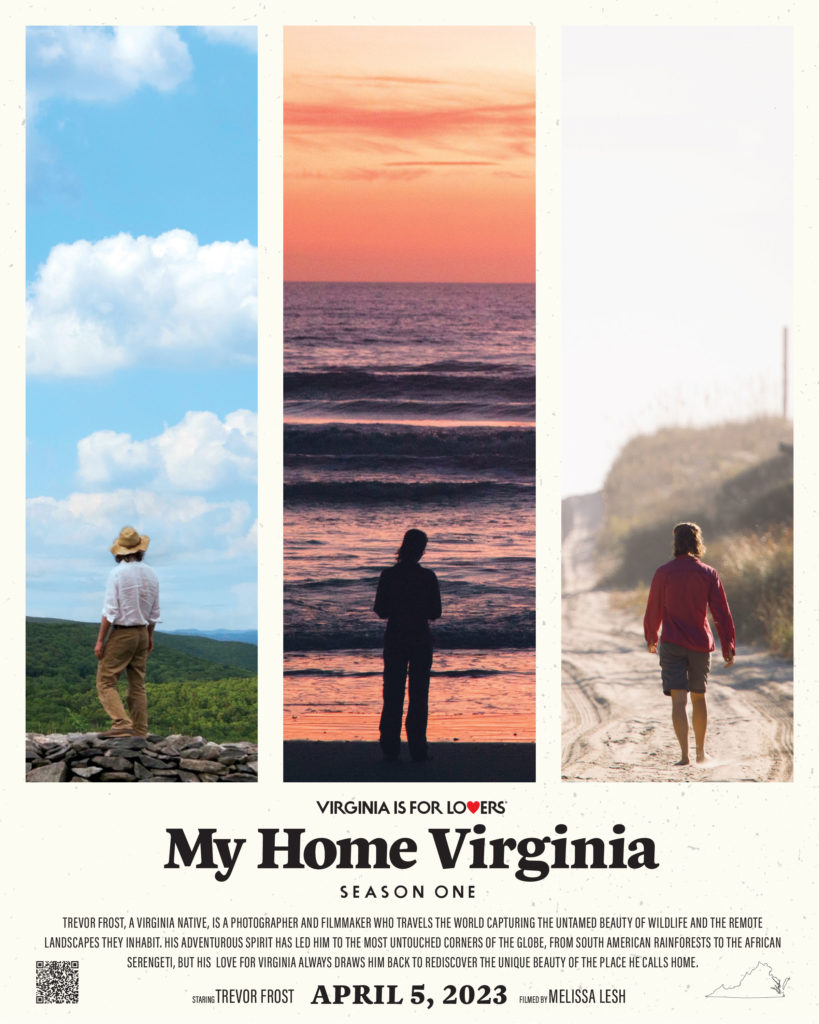 Season 1 featuring award-winning photographer and filmmaker Trevor Frost available now
RICHMOND – Virginia Tourism Corporation (VTC) announced today a new video series titled My Home Virginia launched on the agency's website and YouTube channel.
My Home Virginia is a narrative-driven video series that follows prominent Virginia-based personalities to the beautiful places they love and are inspired to call home, no matter how far across the world their travels may take them. Each episode captures an individual's passion through beautiful visuals that inspire, uplift, and evoke feelings of awe.
WATCH ALL EPISODES OF SEASON 1 HERE
Season 1 of My Home Virginia features photographer and filmmaker Trevor Frost as he travels through some of his favorite Virginia destinations including Great Dismal Swamp, False Cape State Park, Grayson Highlands State Park, and the James River.
Frost and his partner Melissa Lesh of Emerging Earth Films produced each of the three episodes of Season 1. Frost and Lesh are coming off the release of the critically acclaimed, award-winning Amazon Studios documentary WILDCAT, which is currently available to stream on Prime Video.
A Virginia native, Frost is a photographer and filmmaker who has contributed to National Geographic, The Washington Post, and Wired Magazine and has traveled around the world from South American rainforests to the Serengeti desert capturing the untamed beauty of wildlife and the landscapes they inhabit. Lesh is an award-winning documentary filmmaker whose experience includes commercial, educational, and broadcast film production with organizations such as National Geographic, PBS, The U.S. Fish and Wildlife Service, and Virginia Commonwealth University.
"As a photographer who works for publications like National Geographic and spends more than half the year out of the country, I am often asked where I want to go next," said Frost in VTC's 2023 Virginia Travel Guide. "People are often shocked by that answer, which comes as no surprise. But they shouldn't be, because Virginia is where I grew up – and places, like music, have an extraordinary ability to help us recall memories and relive experiences."
"It's easy to forget the beauty and wonder that exists right in one's own backyard," said Lesh. "Whether we were exploring a place I had never been before or one that I was very familiar with, filming this series was a great reminder of the incredible array of wild places and unique ecosystems that set Virginia apart, and why I like to call it home."
My Home Virginia is a part of VTC's overall marketing efforts to promote the Commonwealth as a premier travel destination.
"Locals have a deeper understanding of what their home has to offer travelers, so they can tell Virginia's story from a place of authenticity and lived experience," said Rita McClenny, President and CEO of Virginia Tourism Corporation. "We hope that by watching My Home Virginia, travelers will also be inspired to see new ways to explore the Commonwealth."
Future seasons of My Home Virginia are currently in production. Season 2 will focus on members of Virginia's culinary community and will launch Fall 2023, followed by Season 3 in Spring 2024.
For more information on My Home Virginia, visit virginia.org/MyHomeVirginia.
About Virginia Tourism Corporation
Virginia is for Lovers is one of the most iconic and recognizable travel brands in the world. Using that powerful brand equity, Virginia Tourism Corporation (VTC) is charged with promoting the Commonwealth as a premier travel destination by showcasing all there is to love in a Virginia vacation. The dollars spent by travelers fuel the economy, provide jobs for Virginians, and improve communities across the state. Simply put, tourism helps make Virginia a great place to live, work, and visit. Learn more at virginia.org.