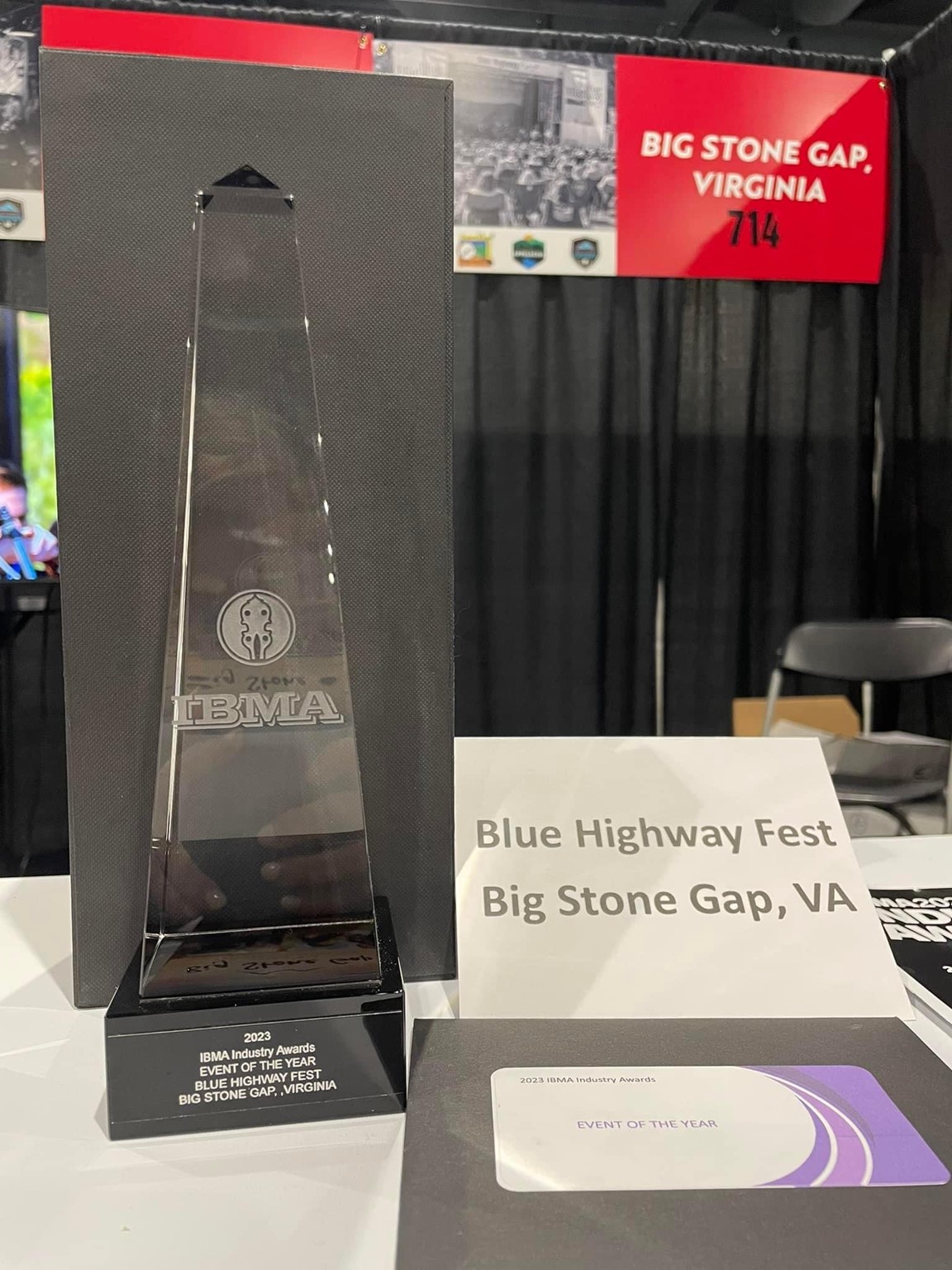 ~ Prestigious award given to industry professionals dedicated to furthering bluegrass music ~ 
RICHMOND – Virginia Tourism Corporation (VTC) congratulates the Blue Highway Fest in Big Stone Gap for winning the coveted 2023 International Bluegrass Music Association (IBMA) Industry Event of the Year Award.
The Blue Highway Fest was recognized Thursday, Sept. 28 with the prestigious award during the annual IBMA conference in Raleigh, North Carolina. The Blue Highway Fest was nominated for this award alongside other events from around the world, including Durango Bluegrass Meltdown in Colorado, Pickin' in the Pines in Arizona, and Bluegrass in La Roche in France.
"I am extremely proud of our friends with Blue Highway Fest for this well-deserved award," said Rita McClenny, President and CEO of Virginia Tourism Corporation. "This prestigious honor shows what a leading force this event has on Virginia to preserve and promote its music heritage. Congrats to everyone involved for the recognition and in making the festival such a resounding success."
The Blue Highway Fest celebrates the rich heritage of bluegrass and roots music, food, and culture of the Southwest Virginia region. Musical performances will be each day on multiple stages along with interactive songwriter workshops. This year's event will take place Oct. 11-14, 2023 in downtown Big Stone Gap.
IBMA Industry Awards are given annually to industry professionals who are dedicated to furthering bluegrass music and its artists. Songwriters, broadcasters, writers, graphic designers, event promoters, and sound engineers who have been active during the eligibility period are invited to apply.
For more information on the Blue Highway Fest, visit bluehighwayfest.com.
For more information on IBMA, visit ibma.org.
About Virginia Tourism CorporationVirginia is for Lovers is one of the most iconic and recognizable travel brands in the world. Using that powerful brand equity, Virginia Tourism Corporation (VTC) is charged with promoting the Commonwealth as a premier travel destination by showcasing all there is to love in a Virginia vacation. The dollars spent by travelers fuel the economy, provide jobs for Virginians, and improve communities across the state. Simply put, tourism helps make Virginia a great place to live, work, and visit. Learn more at virginia.org.