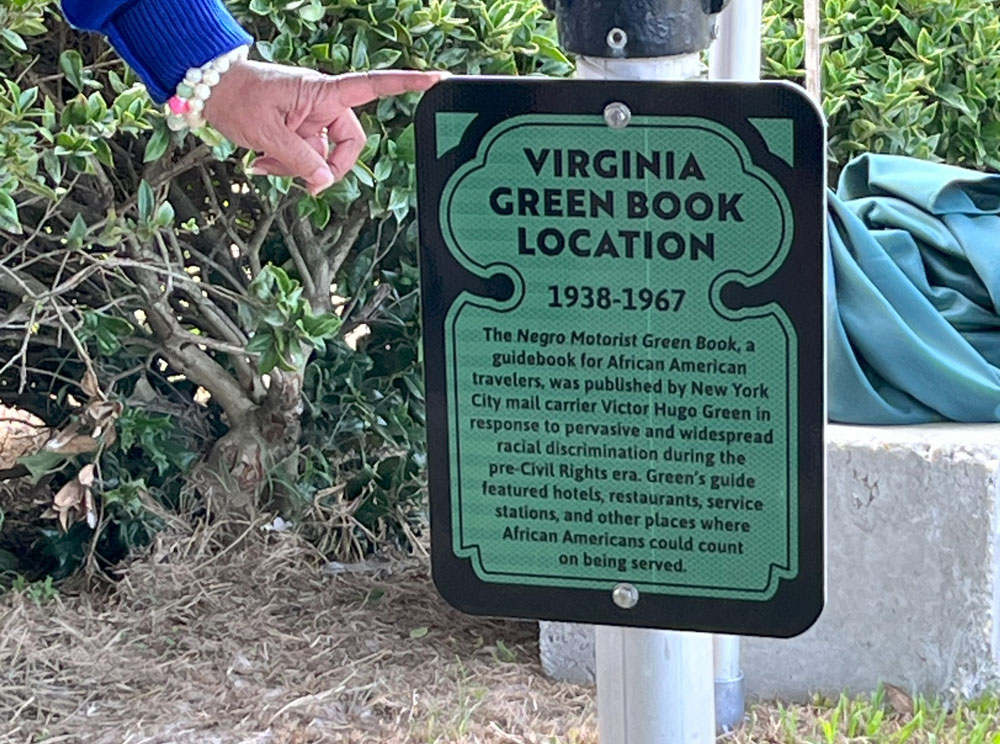 New plaque on historical highway marker at Hampton's Bay Shore Beach to commemorate site featured in Virginia's Green Book
HAMPTON – Governor Glenn Youngkin announced today an unveiling of the first of new plaques attached to historical highway markers at Bay Shore Beach to commemorate sites featured in Virginia's Green Book, a travel guide for Black Americans.
Virginia Tourism Corporation, in collaboration with the Office of Delegate Mike Mullin (D-93), the Virginia Department of Historic Resources, the Virginia Department of Transportation, and Hampton Convention & Visitor Bureau held a ceremony to unveil the plaque at the original site for the Bay Shore Hotel, a popular vacation destination in Virginia for Black Americans during the time when local and state Jim Crow laws legalized racial segregation. The plaque serves as a supplement to the historical highway marker, which was dedicated and installed at the site in June 2018.
Written by Victor Hugo Green and first published in 1936, "The Negro Motorist Green Book" was a guide for Black Americans that provided a list of hotels, guest houses, service stations, drug stores, taverns, barbershops, restaurants, and other spots known to be safe for traveling during this time.
"This is a truly momentous occasion to honor an untold part of Virginia's history," said Governor Glenn Youngkin. "The sites listed in Virginia's Green Book were necessary for safe traveling options for Black Americans and these markers will add more context to these areas to tell a more accurate and inclusive story for all Virginians."
"Many of these historic sites are no longer standing and can only be found in pages of the Green Book," said Secretary of Commerce and Trade Caren Merrick."These plaques are a way to keep the history of these places alive for the travelers exploring the area."
The Bay Shore Hotel was listed in Virginia's Green Book from 1947-1958, and again from 1962-1964 and 1966-1967. The property began as a four-room cottage in 1898 and by 1925, expanded into a four-story beachfront hotel with 70 rooms, long porches facing the water, and a dance hall that brought in famous entertainers like Cab Calloway, Duke Ellington, Ella Fitzgerald, Louis Armstrong, and Redd Foxx. The hotel attracted thousands of Black travelers from the mid-Atlantic region before it closed and was torn down in 1973.
"The Bay Shore Hotel was such a popular tourist destination and has an extensive history that many travelers do not know about," said Secretary of Natural and Historic Resources Travis A. Voyles. "This is just one of many locations throughout the Commonwealth that tells the history of important places to Black Americans. We encourage residents and travelers to visit these plaques to learn more about these times in Virginia's history."
Del. Mullin introduced House Bill 1968 to designate or approve supplementary plaques for historic site markers identifying Green Book locations and businesses in Virginia. The bill also calls for additional funding to document surviving buildings listed in the Green Book. The study will help make the historic properties eligible for potential sources of funding, highway markers, and increase public education about the Green Book and Black History in Virginia. Governor Youngkin signed the Green Book legislation into law in March 2023.
"I'm grateful for Delegate Jeion Ward, who inspired this bill and whose hard work helped in its passage," said Delegate Mike Mullin. "Thanks to the efforts of the agencies involved, visitors can now enjoy these historic sites and learn more about our state's important past. We hope to see more of the Green Book sites in Virginia honored as the project continues."
"As a result of these specially designed plaques, a network of sites included in Virginia editions of the Green Book will begin to take shape, calling public attention to the importance of these travel guides to Black Americans during segregation," said Department of Historic Resources Director Julie V. Langan. "Unfortunately, we won't have enough funding to install a new highway marker at every Green Book location in the Commonwealth. We may receive special funding that we can put toward a few new markers, but often a local government or a local historical society will step up to cover the cost of what goes into establishing a marker, from the research to its manufacturing. Each of these markers would then have a Green Book plaque attached to its post."
Historic Green Book plaques for markers that qualify should be installed over the next several months. These are planned to be placed at original sites including the Yancey House & Grasty Library and the Holbrook-Ross Historic District in Danville, Fayette Street in Martinsville, along with Jackson Ward, Navy Hill, and the Miller's and Eggleston Hotels in Richmond.
For more information on the Virginia's Green Book plaques, click here.
About Virginia Tourism Corporation
Virginia is for Lovers is one of the most iconic and recognizable travel brands in the world. Using that powerful brand equity, Virginia Tourism Corporation (VTC) is charged with promoting the Commonwealth as a premier travel destination by showcasing all there is to love in a Virginia vacation. The dollars spent by travelers fuel the economy, provide jobs for Virginians, and improve communities across the state. Simply put, tourism helps make Virginia a great place to live, work, and visit. Learn more at virginia.org.
About Virginia Department of Historic Resources
The Virginia Department of Historic Resources (DHR) is the State Historic Preservation Office (SHPO) in Virginia. As the SHPO, DHR administers a number of federal programs. DHR is also a state agency in the Natural and Historic Resources Secretariat. DHR fosters, encourages, and supports the stewardship and use of Virginia's significant architectural, archaeological, and historic resources as valuable assets for the economic, educational, social, and cultural benefit of citizens and communities. For more, visit dhr.virginia.gov.
About Virginia Department of Transportation
The Virginia Department of Transportation (VDOT) is responsible for building, maintaining, and operating the state's roads, bridges, and tunnels. And, through the Commonwealth Transportation Board, it provides funding for airports, seaports, rail, and public transportation. Virginia has the third-largest state-maintained highway system in the country, behind Texas and North Carolina. For more, visit virginiadot.org.