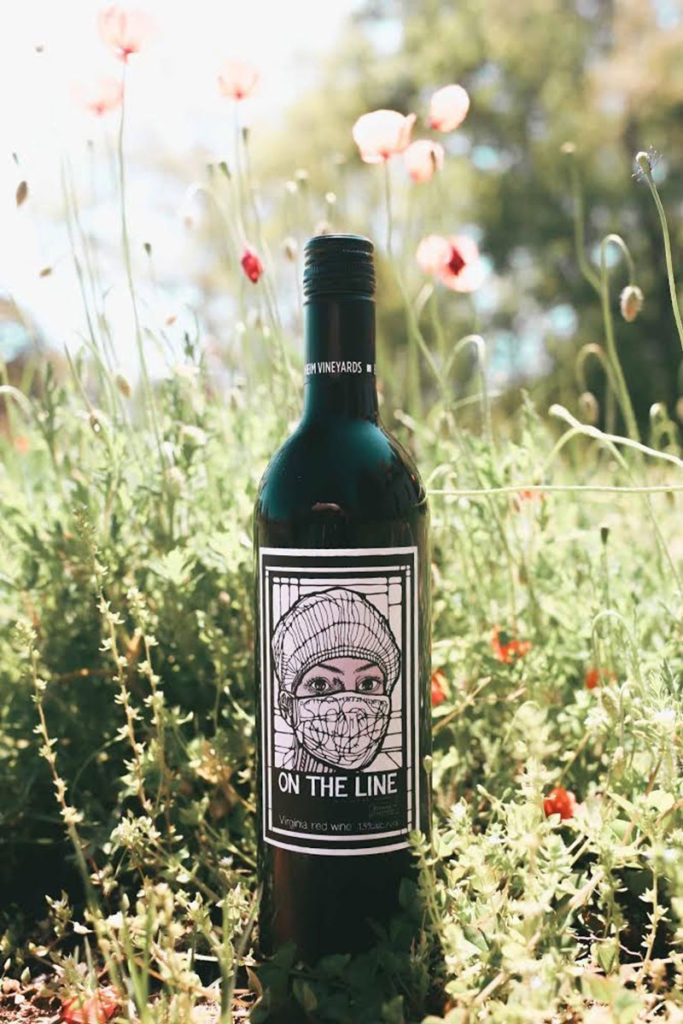 ~"On the Line" designs created by Dave Matthews; all proceeds going to COVID-19 relief efforts~
CHARLOTTESVILLE – In an effort to support the community impacted by the novel coronavirus, COVID-19, Blenheim Vineyards has released a limited-edition wine to help provide healthy meals to frontline workers and others in need. A red wine blend, "On the Line" bottles feature a label designed by Dave Matthews, who is also the owner of Blenheim Vineyards. The design is also featured on other merchandise such as t-shirts, stickers, and posters. A white blend will be released later this summer. All proceeds from sales will be donated to Frontline Foods Charlottesville and the World Central Kitchen, known around the globe as "Food First Responders" serving millions of meals each year. These organizations are dedicated to serving healthy meals for first responders and others in need.
"I hope that the wine is a way to bring focus to the community of workers on the front lines– from health care to grocery stores," said Kirsty Harmon, general manager and winemaker at Blenheim Vineyards. "It is hopefully a way for those folks living in Charlottesville, Virginia and beyond to be able to support those workers from afar."
"We are so grateful to Blenheim and Dave Matthews. Their commitment provides critical support to extend our mission into the summer and provide food relief where it's needed most," said John Kluge, a volunteer with Frontline Foods Charlottesville. 
"The coronavirus has had a devastating impact on the travel and hospitality industries in Virginia," said Rita McClenny, president and CEO of Virginia Tourism Corporation. "The restaurant industry has been especially hard hit. We are so grateful for the work of the team at Blenheim Vineyards for responding with passion to feed their community and help our restaurants remain open during this health crisis. This is truly one of the silver linings during this difficult time."
The wine is available for pre-order now, and will begin shipping on May 25, 2020. Click here to place an order.
Media Contacts
Redlight Management 
Ashley Yancey
[email protected]
Frontline Foods Charlottesville
John Kluge
[email protected]
Virginia Tourism Corporation
Susan Payne
[email protected]
Caroline Logan
[email protected]