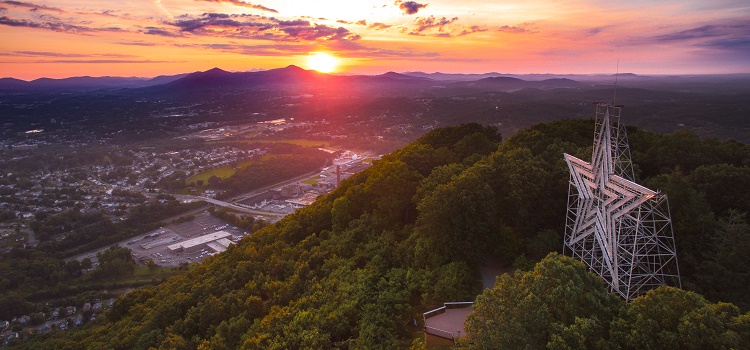 RICHMOND – Today, the Virginia Tourism Corporation (VTC) released Share What You LOVE in Virginia 2020, the agency's curated guide to what is new and newsworthy for the travel industry for the coming year. The guide is produced annually and offers a regional look at what's to come in 2020.
To view the full Share What You LOVE in Virginia 2020 guide, visit pressroom.virginia.org/whatsnew.
Highlights From This Year's Guide:
Overall in Virginia
Fairfax County will commemorate the centennial anniversary of the passing of the 19th Amendment with two new attractions opening in 2020: In August 2020, there will be a dedication for the new Turning Point Suffragist Memorial at Occoquan Regional Park. The 1.6-acre national memorial to the suffrage movement will feature replica White House gates, 19 informational stops, and a beautifully landscaped meditation garden. The Workhouse Arts Center, once a DC prison that notoriously housed incarcerated members of the National Women's Party, will open the Lucy Burns Museum in early 2020, which will focus on the Party's efforts to win the right to vote.
Ken Burns' documentary 'Country Music' lives on in Bristol, the Birthplace of Country Music. After several years of fundraising and renovations, the highly anticipated Sessions Hotel will open in Spring 2020 on State Street. The 70-room, $20 million project includes Southern Craft BBQ Restaurant, indoor and outdoor music venues, rooftop space and a luxury spa.
2020 will be a big year for music festival anniversaries, including the 20th Anniversary of FloydFest, the 85th Anniversary of the Galax Fiddlers' Convention, the 20th Anniversary of Bristol Rhythm and Roots Reunion, the 10th Anniversary of HoustonFest in Galax, the 25th Anniversary of the Columbia Pike Blues Festival in Arlington, the 30th Anniversary of the Rosslyn Jazz Fest, in Arlington and the 50th Anniversary of Ralph Stanley's Hills of Home Bluegrass Festival in Southwest Virginia.
Northern Virginia
Central Virginia and Southern Virginia
The historic Keswick Hall is set to reopen late Summer 2020, following the completion of an extensive and loving restoration that marries the resort's classic style and sophistication with luxurious comfort and modern amenities. The entirety of Keswick Hall has been expanded and transformed, including a new guest wing that will increase the number of accommodations to 80 guest rooms, as well as the addition of a redesigned spa, a new infinity pool and cabanas and reimagined resort grounds.
Canopy Adventure Park is a new ropes course located in Powhatan County that opened end of October 2019. It has four courses ranging from easy to difficult, 10 ziplines and are already looking at expansion opportunities to include a lower-level course for younger groups.
The Quirk Hotel will open its second location in Charlottesville in early 2020.
The Jefferson Hotel in Richmond will celebrate its 125th anniversary in 2020 and will be offering a variety of lodging packages throughout the year to highlight the hotel's heritage.
Busch Gardens Pantheon®, the Fastest Multi-launch Coaster in North America, debuts in 2020.
The Looking Glass opens January 18, 2020 at the IX Art Park in downtown Charlottesville and will be the first fully immersive art space in Virginia. The Looking Glass is a 3000 sq foot enchanted forest designed and built by 14 Virginia artists.
Lynchburg has a new brewery coming to town. 3rd Street Brewery, a second location for the Three Roads Brewing Company in Farmville, will open this coming year in the old Ford Motor Co. building in Downtown.
Well Hung Vineyard has opened a new tasting room and restaurant in Gordonsville in the Historic Main Street District.
Opening in late 2020, Good Ship Brewing Company will be the City of Hopewell's first brewery. It will have a five-barrel system with about 20 beers on tapas well as a 6,000 sq foot outdoor beer garden.
The Grizzly Hatchet House is a new ax-throwing range and bar opening in Danville in 2020.
Buggs Island Brewing is moving to a new lakeside location in downtown Clarksville in 2020.
Coastal Virginia- Hampton Roads, Coastal Virginia- Eastern Shore and Chesapeake Bay
Shenandoah Valley
Virginia Mountains, Southwest Virginia–Blue Ridge Highlands and Southwest Virginia- Heart of Appalachia
About Virginia Tourism Corporation
Virginia Tourism Corporation is the state agency charged with marketing the Commonwealth as a premier travel and film destination. Last year, visitors to Virginia spent $26 billion, which supported 234,000 work opportunities and contributed $1.8 billion in state and local taxes. To learn more, visit
virginia.org.