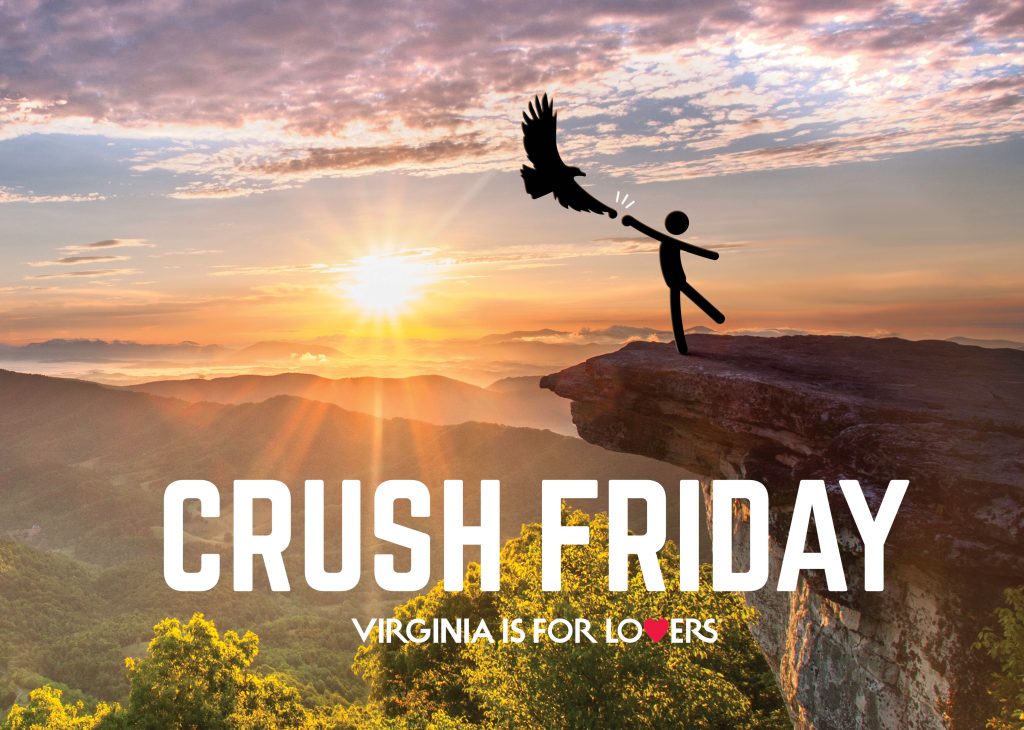 RICHMOND – The Virginia Tourism Corporation (VTC) received a national tourism industry award for its work on "Crush Friday," a multi-level co-op program to encourage the millennial work martyr to stop losing their unused vacation days. The program was recognized as best in category for Industry and Strategic Partnerships.
VTC was recognized last night with the prestigious National Council of State Tourism Directors Mercury Award during the U.S. Travel Association's annual Education Seminar for Tourism Organizations (ESTO) conference, held in Austin, TX. With the annual Mercury Awards, the U.S. Travel Association recognizes state and territory tourism offices for excellence and creative accomplishment in travel marketing and promotion. Winning programs serve as models to foster imagination and innovation in the development of future destination programs. This is VTC's 11th Mercury Award for its work promoting Virginia's exceptional tourism assets and experiences. VTC was also a finalist in two additional categories: Public Relations and Niche Targeting.
"I am so proud of this well-deserved recognition for the Crush Friday campaign," said Rita McClenny, president and CEO of Virginia Tourism Corporation. "This program brought our tourism industry together in an unprecedented way, truly underscoring the power of partnerships. Crush Friday was a creative and exciting way to show travelers why Virginia is for Lovers, and we are delighted by the recognition the team received from U.S. Travel."
"The success of the Crush Friday campaign really came down to the 35 communities who partnered with VTC to bring more travelers to Virginia," said Caitlin Johnson, Director of Operations and Industry Initiatives for the agency's Partnership Marketing division. "Working hand-in-hand with tourism industry partners across the Commonwealth, we were able to highlight our vibrant cities and towns in a brand new way by encouraging travelers to start their weekend a day earlier. By adding another day to their vacation, travel expenditures increase, injecting critical dollars back into our communities."
VTC worked with students at Virginia Commonwealth University's Brandcenter to develop strategic directions that would help millennials understand the importance of taking time off. VTC also worked with agency partners Elevation and The Martin Agency to bring the Crush Friday campaign to life across creative, owned, earned, and paid media.
The foundation of the campaign was digital and video, developing creative assets tied to each of the Virginia is for Lovers sub-brands. These assets featured a team of stick figures to appeal to millennials, removing limitations of specific casting or talent. These quirky characters told the consumer that they shouldn't be at work-they should be doing over-the-top amazing things in Virginia.
VTC partnered with 35 destination marketing organizations across the state, each bringing their own local partners into the campaign. In all, more than 200 partners engaged with the campaign, making a significant impact on the tourism industry in Virginia.
The Mercury Award judges were impressed by the program, noting: "This campaign was a great project, aiming to help solve a problem most people have with not taking vacation days, and providing them a "close by" solution! Judges felt using the stick figures helped to give creativity to each of the DMOs. This was a well-laid out concept, with specific objectives and goals. Judges felt the campaign had a clear target market, i.e., the group of millennials who feared taking a vacation for lack of time and budget in the markets of Washington, D.C. and the surrounding Northern Virginia area. The campaign was innovative in who they targeted and why, and they exceeded the goals they had for signing up their program partners. Judges loved the partnership with university students, and the creative content-Virginia Tourism Corporation crushed it!"
To learn more about Crush Friday and the results of the program, click here.
Tourism is an instant revenue generator for the Commonwealth. Last year, visitors to Virginia spent $26 billion, which supported 236,000 work opportunities in our communities and contributed $1.8 billion in state and local taxes.