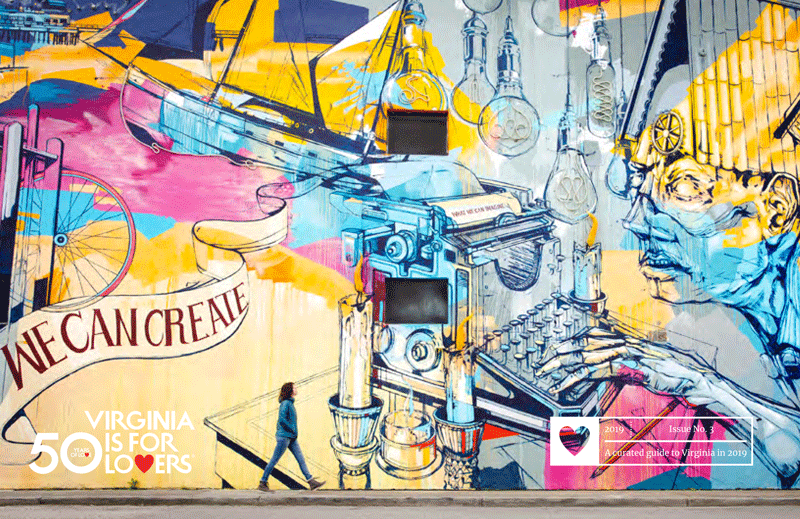 Jan. 16, 2018
RICHMOND – Today, the Virginia Tourism Corporation (VTC) released What's New to LOVE in Virginia, the agency's curated guide to what is new and newsworthy for the travel industry in 2019. The guide is produced annually and offers a regional and by-interest look at what's to come in 2019.
Throughout 2019, VTC will also celebrate the 50th anniversary of its iconic "Virginia is for Lovers" slogan. Created in 1969 by Richmond-based advertising agency Martin & Woltz, the slogan is one of the most recognizable tourism slogans of all time. VTC will celebrate the anniversary with a brand new "50 Years of Love" campaign, with activations at wineries, breweries, festivals, hotels, restaurants and small businesses across the Commonwealth.
To download VTC's What's New in Virginia 2019 guide, please click here: pressroom.virginia.org/whatsnew.
Highlights From This Year's Guide:
Overall in Virginia
During 2019, Virginia's 2019 Commemoration, American Evolution™ will recognize the event that occurred in Virginia in 1619 that continues to influence America today. Featured programs, events and legacy projects will position Virginia as a leader in education, tourism and economic development.
Virginia's robust 2019 Pride Season now occurs April through October starting with Hill City Pride on April 13 in Lynchburg.
Focus Features' upcoming biopic "Harriet", starring Cynthia Erivo, Leslie Odom, Jr., and Janelle Monáe, was filmed in Virginia.
Northern Virginia
The biggest splash at the Old Town Alexandria waterfront in 2019 will come from the tall ship Providence, arriving in June as a permanent attraction.
Widewater State Park opened in Stafford County. It is the Commonwealth's 38th state park. Widewater State Park covers 1,100 acres, including two miles of water frontage along the Potomac River and Aquia Creek.
Central Virginia
The Ashland Theatre reopened at the end of 2018 after a $2.1 million capital campaign, and nearly two years of renovations. The theatre will show movies, live theatre performances, stand-up comedy and music performances.
In 2019, the most popular week-long participatory program at James Madison's Montpelier, was The Archaeology Excavation Expedition. It is expanding its lab expeditions by adding lab conservations Feb.17 to Feb. 22. Montpelier will also offer a new excavation expedition April 28 through May 3 that includes a birding component.
After 60 years in the making, the Historic Academy of Music Theatre in Lynchburg, built in 1905 and closed in 1958, completed its renovation and opened its doors to the public in December 2018 celebrating the integration of the theatre, a space that was previously segregated when last closed.
Hardywood Park Craft Brewery is developing a new live music amphitheater at its West Creek Location to open in 2019.
Coastal Virginia- Hampton Roads, Coastal Virginia- Eastern Shore and Chesapeake Bay
Celebrate the Virginia Oyster at Shuckapalooza on April 12 with seven unique oyster experiences at seven different locations in Virginia's River Realm.
Farmhouse Brewing in Virginia Beach opened an eight-acre craft beer and cider oasis.
Glass Light Hotel, a Marriott Autograph Collection, will open in Norfolk's historic Rail District. The hotel will be down the street from the national ranked Chrysler Museum of Art and its Glass Studio.
The reconstruction of the birthplace of President James Monroe just outside of Colonial Beach will include a rebuilt colonial home, a scenic walk (complete with granite historical markers along the trail telling the story of Monroe's career), a bicycle trail, a canoe launch, benches, an overlook and a picnic pavilion.
Shenandoah Valley
Seven Bends State Park is slated to open spring 2019 with primitive trails, river access, tent camping and a picnic shelter. The park will encompass over 1000 acres and adjoin to the George Washington National Forest and offer more than four miles of river frontage.
Virginia Mountains, Southern Virginia, Southwest Virginia– Blue Ridge Highlands and Southwest Virginia- Heart of Appalachia
The Southeastern region of Virginia has long been known for its peanuts, salt-cured hams and pork products. So on March 1, the Salty Southern Route will launch and take you on a journey through this picturesque area to experience this tradition first-hand.
New tent and tipi camping options and horseback riding at Niagara Farms became available to visitors late 2018 at Explore Park in Virginia's Blue Ridge. Spring 2019 will bring a new zipline and additional tent sites and yurts.
Steeped in history, the opening of The Bristol Hotel has repurposed downtown Bristol's notable Executive Plaza, which dates back to 1925. Situated in the heart of downtown Bristol, this 65-room, remodeled boutique hotel features a rooftop bar displaying sweeping views of the scenic Appalachian Mountains, streetfront dining serving farm-to-table cuisine and the utilization of the original historic arcade for unforgettable social gatherings and events.
Thoughtfully brought back to life as a boutique hotel, the Weyanoke Hotel in Farmville features a historic building complemented with mid-century modern designed, residential-style furnishings.
The Appalachian Regional Exposition Center (APEX Center) will open in Wythe County. APEX Center is an agriculturally-themed arena capable of seating thousands of individuals and hosting events ranging from rodeos, livestock shows, concerts, sporting events and regional fairs.
Daniel Boone Wilderness Trail Interpretive Center opened in Duffield.
About Virginia Tourism Corporation
Virginia Tourism Corporation (VTC) is the state agency charged with marketing the Commonwealth of Virginia as a premier destination for travel and film production. In 2017, visitors to Virginia spent $25 billion, supporting 232,000 jobs and contributing $1.73 billion in state and local taxes. To learn more, please visit www.virginia.org.
# # #