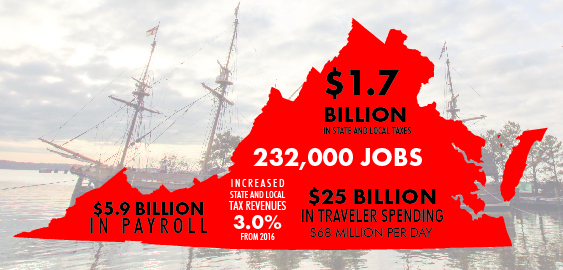 September 5, 2018
~ New statewide data shows all Virginia localities saw increased tourism revenue ~ 
 RICHMOND – Virginia Tourism Corporation announced today that Virginia's tourism revenues had another record-breaking year in 2017 by reaching $25 billion, a 4.4 percent increase over 2016. This spending supported 232,000 jobs, $5.9 billion in salaries and wages, and $1.73 billion in state and local taxes.  All Virginia localities saw an increase in travel expenditures in 2017 compared to previous year.
Arlington County received nearly $3.3 billion in domestic travel expenditures leading all of Virginia's 133 counties and independent cities.  Fairfax County followed Arlington County closely, ranking second with $3.2 billion.  Loudoun County ranked third with $1.8 billion; Virginia Beach City, fourth with $1.6 billion and Henrico County, fifth with $916 million.
44 of Virginia's 133 counties and independent cities received more than $100 million in domestic travel expenditures in 2017. 43 counties and independent cities in Virginia realized one thousand or more jobs that were directly supported by domestic travelers during 2017.
The travel industry in the Commonwealth has continued to grow eight years in a row since the Great Recession, which officially lasted from December 2007 to June 2009.  Travel expenditures increased at a compound annual growth rate of 3.9% since 2010.
Foodservices and lodging were among the top performing spending categories for domestic travelers in Virginia. Domestic travelers spent $7.4 billion on foodservices including restaurants and other eating and drinking places in 2017, up 3.6 percent from 2016. Spending on lodging including hotels/motels, campgrounds, time share and vacation homes rentals was $4.9 billion in 2017, accounting for 19.9 percent of domestic traveler spending, up 4.1 percent from 2016.  Likewise, the hotel industry had a robust year with all performance indicators rising in 2017 according to STR.  Both room demand and supply grew by 1.7% and 0.9% respectively.  Average daily rates in Virginia hotels reaching to $109.66, with an increase of 2.2%, improved RevPAR (revenue per available room) by 2.9%.  The occupancy percentages, percentage of available rooms that were sold, were at 63.9%.
The travel industry continues to be a premium in consumers' minds with healthy economic indicators. The focal shift from products to experiences, as well as the impact of technology influencing one-of-a-kind, local, bucket-list vacations have proven to be beneficial travel trends for Virginia's tourism economy as it continues to grow year after year.
Note: This data is final for 2017 and updated from the forecasted data previously provided in May 2018.
From the May 22, 2018 Governor's Announcement:
Governor Ralph Northam announced today that Virginia's tourism revenues reached $25 billion in 2017, a 4.4 percent increase over 2016. In 2017, tourism in Virginia supported 232,000 jobs—an increase of 1.1 percent compared to 2016. The tourism industry also provided $1.73 billion in state and local revenue, an increase of 2.8 percent compared to 2016. The travel industry is the fifth largest employer in Virginia.
In 2017, domestic travelers spent $68 million a day in Virginia, which represents a 4.4 percent increase over 2016. Domestic travel-supported employees in Virginia earned nearly $5.9 billion in payroll income during 2017, representing a 4.8 percent increase from 2016.
"Virginia's tourism industry is an important diversifier for our economy as it continues to grow and flourish in multiple regions of our Commonwealth," said Governor Northam. "Travelers are coming to Virginia from across the country and the globe to experience our rich historic attractions, unmatched outdoor recreation offerings, eight oyster regions, world-class food and craft beverages, beautiful landscapes, and exciting arts and culture. These visitors are spending millions of dollars a day, injecting critical funds back into our community coffers and helping to make Virginia the best place to live, work, and raise a family."
"Our tourism industry is an important and vital component of economic growth and job creation in Virginia," said Brian Ball, Secretary of Commerce and Trade. "As the tourism sector continues to grow and new product is developed, our communities across the state become even more dynamic and vibrant. Tourism is fortifying towns and cities across the Commonwealth, engaging and unifying our communities, and making it easy to for travelers to discover for themselves why Virginia is for Lovers."
The Virginia Tourism Corporation is the state agency responsible for marketing Virginia to visitors and promoting the Virginia is for Lovers brand, which will celebrate 50 years in 2019. Virginia is for Lovers is the longest-running state tourism slogan in the country.
The Virginia Tourism Corporation (virginia.org) receives its annual economic impact data from the U.S. Travel Association. The information is based on domestic visitor spending (travelers from within the United States) from per-person trips taken 50 miles or more away from home. Detailed economic impact data by locality is available on vatc.org/research.