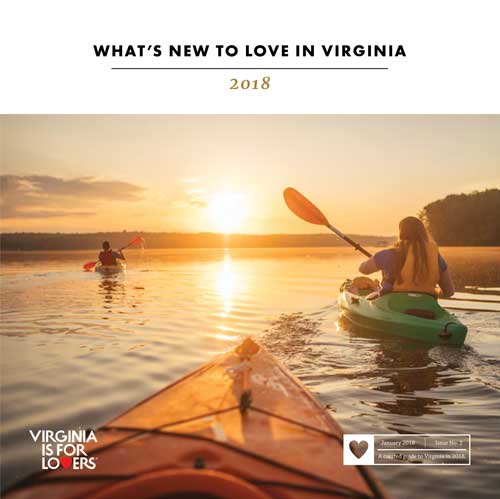 RICHMOND –Virginia Tourism Corporation (VTC) released the Commonwealth's new and newsworthy curated guide for 2018.
The guide showcases the many new things travelers will enjoy in 2018, including the multitude of new craft beverage destinations, outdoor recreation and historic attractions, restaurants and lodging properties.
The travel and tourism industry in Virginia has continued to grow year after year. In 2016, tourism in Virginia generated $24 billion in revenue, which supported 230,000 jobs and provided $1.7 billion in state and local taxes for the Commonwealth. Dollars invested in tourism are proven to provide a 7:1 return in tax revenue for Virginia, and grant awards and matching funds provide a stimulus to localities seeking to increase tourism visitation and revenue.
During 2018, Virginia Tourism Corporation will launch its Project: Time Off "Crush Friday" campaign on National Plan for Vacation Day, Jan. 30. Project: Time Off is a niche campaign geared to remind "work martyrs" of the importance of taking a vacation.
Virginia will welcome its 100th Virginia is for Lovers' iconic LOVE letters artwork in 2018. Also known as LOVEworks, these artworks are a great way to celebrate that "love is at the heart of every Virginia vacation." Visitors are encouraged to share their photos with the LOVEworks on social media, using the hashtag #LOVEVA.
To download VTC's What's New in Virginia 2018 guide, please click here: pressroom.virginia.org/whatsnew.
Highlights Across the Commonwealth
Northern Virginia
Central Virginia
Coastal Virginia, Chesapeake Bay and Eastern Shore
  Shenandoah Valley
 Southern Virginia, Southwest Virginia and Virginia Mountains
Visit virginia.org and pressroom.virginia.org/whatsnew for more information.
# # #
The Virginia Tourism Corporation (VTC) is the state agency responsible for marketing Virginia as a premier travel destination and promoting the 49-year old "Virginia is for Lovers" brand, the longest-running state tourism slogan in the country. VTC operates as a fully-integrated marketing unit charged with increasing brand awareness through owned, earned and paid media opportunities, as well as social media strategies.
Plan your next vacation in Virginia. Visit virginia.org to discover why Virginia is for Lovers.