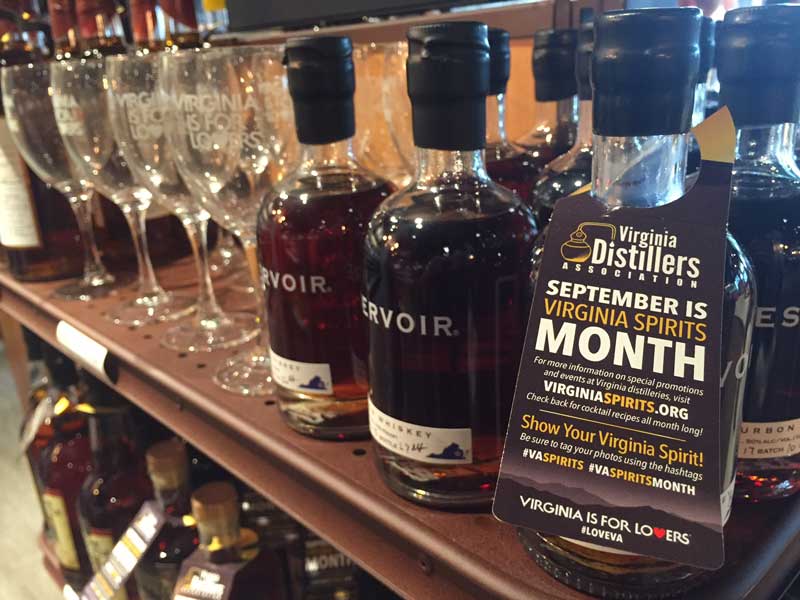 RICHMOND – Governor Terry McAuliffe declared that September is Virginia Spirits Month. This year marks the second annual celebration with new and exciting promotions intended to educate consumers and travelers about Virginia distilled spirits.
"Virginia is the Birthplace of American Spirits and with total sales of spirits topping more than $6 million last year in the Commonwealth, there is no better time than September to celebrate the rich history and important economic impact of the spirits industry in Virginia," said Governor Terry McAuliffe. "Virginians have been distilling spirits since 1620, and count George Washington as one of our many distinguished distillers, owning and operating the largest whiskey distillery in America at the time. Today, we continue to grow and remain an industry leader. With nearly 60 distillers across the Commonwealth and Virginia-made spirits featured in award-winning restaurants across the country, it's easy to see why Virginia is for Lovers of distilled spirits."
The Virginia Distillers Association has partnered with the Virginia Tourism Corporation and Virginia ABC to promote September Virginia Spirits Month, including a complimentary Virginia is for Lovers trucker hat with the purchase of any bottle of Virginia spirits at select Virginia ABC stores while supplies last.
"At Virginia ABC, we celebrate our homegrown distilleries, whose spirits bring a local and, always outstanding, historic flavor to our shelves," said Virginia ABC Chairman Jeffrey Painter. "Our customers appreciate when we provide them the opportunity to show off their love of Virginia and we are delighted to support Virginia Spirits Month alongside the Virginia Distillers Association and their many partners" explained Virginia ABC Chairman Jeffrey Painter.
The spirits industry has an important impact on Virginia's economy, with the diversity of product and the number of distilleries across the state for tourists to visit. By using local raw materials, such as corn, wheat, barley, and rye, Virginia's spirits industry also plays an important role in the agricultural industry. Virginia distillers often rely on other Virginia value-added producers through sourcing finishing components for their products, such as used wine, cider and beer barrels. They also donate the leftover mash to local farmers to feed livestock.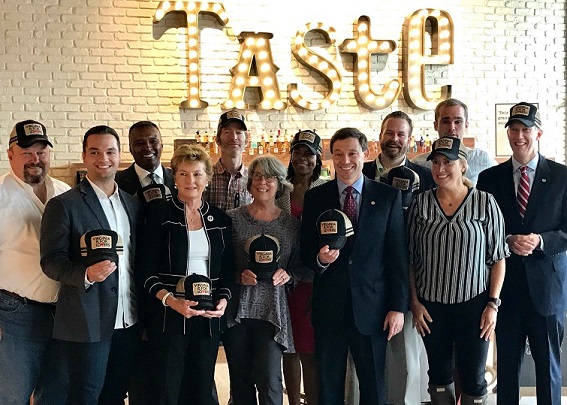 Educating consumers on what makes Virginia distilled spirits uniquely Virginia is a primary goal for September Virginia Spirits Month. "The Virginia climate truly helps to impart a sense of place in our spirits" says Gareth H. Moore, CEO of Virginia Distillery Company and Virginia Distillers Association President. "The unique daily and seasonal fluctuations in Virginia's humidity and heat accelerate the maturation process and enables the spirit to extract all the wonderful characteristics imparted by the barrel in a deeper and more complex way, more so than our counterparts in cooler regions such as Scotland or Ireland."
September Virginia Spirits Month promotions will include events statewide:
The launch of the Meet Virginia Makers distillers' series will premiere on YouTube, featuring interviews and stories with 22 of Virginia's most compelling distillers and artisan spirits producers.
50+ restaurants throughout the Commonwealth have each committed to serve and promote a minimum of three new and unique Virginia spirits cocktails throughout the month to highlight our local distillers.
The launch of the Virtual Virginia Spirits Trail on VirginiaSpirits.org will help culinary and beverage travelers plan their trips to Virginia's distilleries. Users can search distilleries by region and by category of spirit; in addition, restaurants that are participating in the Virginia Spirits Month campaign will be highlighted on the map in addition to all Virginia ABC stores.
The PBS series Made in Virginia will debut their premier episode highlighting Virginia Distillery Company. The episode will show a behind-the-scenes tour of the production process for distillery's American Single Malt whisky.
A September 4th Mini-Monday special at 100 Virginia ABC stores will feature KO Distilling's Bare-Knuckle Rye. Guests will receive a complimentary bottle with any purchase of $25 or more in-store.
Virginia ABC stores are hosting a record number of free, in-store tastings and additional special events all across the Commonwealth.
The 2nd Annual Virginia Craft Spirits Showcase in Roanoke will take place on Saturday, September 16th, which is the largest gathering of in-state distilleries for East Coast consumer events.
Virginia Distillers Association
CONTACT: AMY CIARAMETARO
757.535.5829 | [email protected]
Virginia Tourism Corporation
CONTACT: CAROLINE LOGAN
804.545.5572 | [email protected]
Virginia ABC
CONTACT: MEGHAN MCMAHON
804.921.4819 | [email protected]