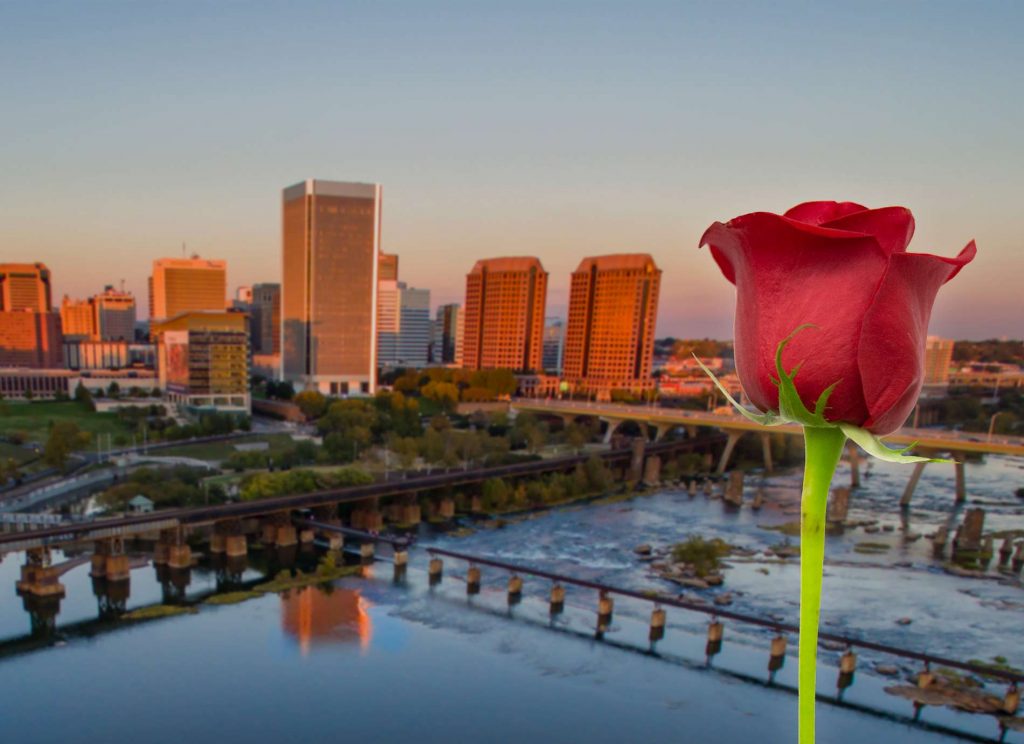 June 26, 2018
Virginia Tourism Corporation, the state agency behind the "Virginia is for Lovers" brand, announced today that the state capital of Richmond will be a included in an upcoming episode of ABC's hit romance reality series, The Bachelorette. The episode will feature the beautiful cityscapes, vibrant community, and diverse attractions of Richmond as the setting for the next leg of the journey, as the remaining men vie for the love of the newest Bachelorette, Becca Kufrin. This episode of The Bachelorette, currently celebrating its 14th season, is scheduled to air MONDAY, JULY 2nd, 2018, at 8/7c, on ABC. Becca's journey in RVA will showcase many Richmond icons old and new, from the modern and charming Quirk Hotel to the historic State Capitol and Main Street Station to the funky-chic Graduate Hotel, among other classic Virginia attractions.
The gut-wrenching finish to Becca Kufrin's romance with Arie Luyendyk Jr. left Bachelor Nation speechless. In a change of heart, Arie broke up with America's sweetheart just weeks after proposing to her – stealing her fairytale ending and her future. With the help of her family and friends, Becca was able to pick up the pieces and put the focus back on herself, moving forward with her life. It is strong willpower and a firm set of Midwest values that lead Becca to one certain conclusion: She is willing to take another leap of faith to look for her soul mate, the love of her life, again. But this time, it will be on her terms and forever. Now, the humble fan favorite and girl next door from Minnesota returns for a second shot at love, starring on The Bachelorette, which premiered for its 14th season on Monday, May 28th on The ABC Television Network.
ABOUT VIRGINIA IS FOR LOVERS
A vacation in Virginia is all about doing the things you love with those you love most. Travelers come to Virginia from across the country and the globe to experience world-class restaurants, wineries, craft breweries, music festivals, oyster farms, beaches, mountains and more. Virginia's rich history, scenic beauty, vibrant arts, and burgeoning culinary scene make it a destination like none other. It's easy to see why travelers are eager to discover for themselves why Virginia is for Lovers.
Plan your next Virginia vacation at www.virgina.org.
Facebook: Virginia is for Lovers
Twitter: @VisitVirginia
Instagram: @VisitVirginia
Hashtag: #LOVEVA
YouTube: https://www.youtube.com/user/VisitVirginia
ABOUT THE BACHELORETTE
On ABC's hit primetime reality series The Bachelorette, one lucky woman is offered the chance to find true love. A single and eligible Bachelorette embarks on a romantic journey, getting to know a number of handsome men, gradually narrowing the field as she continues her search for her soul mate. At the end of this romantic voyage, if she has found the one, will there be a proposal — and will she say yes? Hosted by Chris Harrison, The Bachelorette is a production of Next Entertainment in association with Warner Horizon Unscripted & Alternative Television. Mike Fleiss, Elan Gale, Bennett Graebner and Nicole Woods are the executive producers.
For more information on "The Bachelorette," visit abc.com/the-bachelorette 
Follow ABC Publicity on Twitter and Instagram.
Facebook: @TheBachelorette 
Twitter: @BacheloretteABC
Instagram: @BacheloretteABC
Hashtag: # TheBachelorette
YouTube: https://www.youtube.com/bachelornationabc