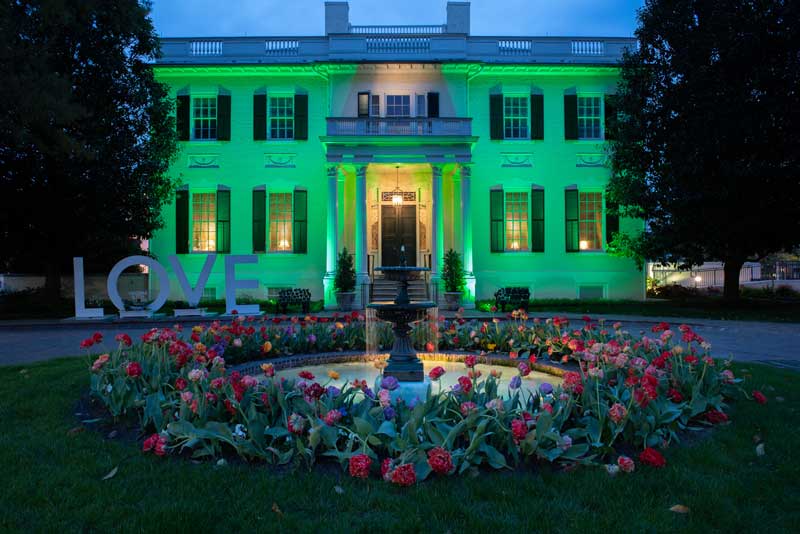 RICHMOND – In celebration of Earth Day 2018, First Lady Pamela Northam has planted flowers around a LOVE artwork display at the Executive Mansion. The LOVEwork planter will also be onsite when the Executive Mansion joins Virginia's Historic Garden Week for 2018 Garden Day on April 27.
"Earth Day is a wonderful opportunity to highlight the importance of protecting Virginia's beauty and natural resources," said First Lady Northam. "Conservation is important to the Governor and me and planting plants native to the Commonwealth at the Executive Mansion is a symbolic way to remind ourselves of the bounty of our soil and the importance of giving all Virginians a healthy place to live, work and play."
About the Garden Club of Virginia and Historic Garden Week
Since 1920 the Garden Club of Virginia has grown from a nucleus of eight founding clubs to 47 clubs with over 3,300 members. It is the coordinated efforts of these talented volunteers, along with the generosity of nearly 200 private home owners across our Commonwealth, who make Historic Garden Week possible. The Garden Club of Virginia's horticultural programming and flower shows inspire one of Historic Garden Week's greatest attractions, the world-class floral arrangements created by club members featured in every home on tour. It is estimated there will be over 2,300 floral arrangements created for Historic Garden Week this spring. The economic impact of Historic Garden Week over the last 45 years is estimated to be over $425 million. For more information, please go to: vagardenweek.org.