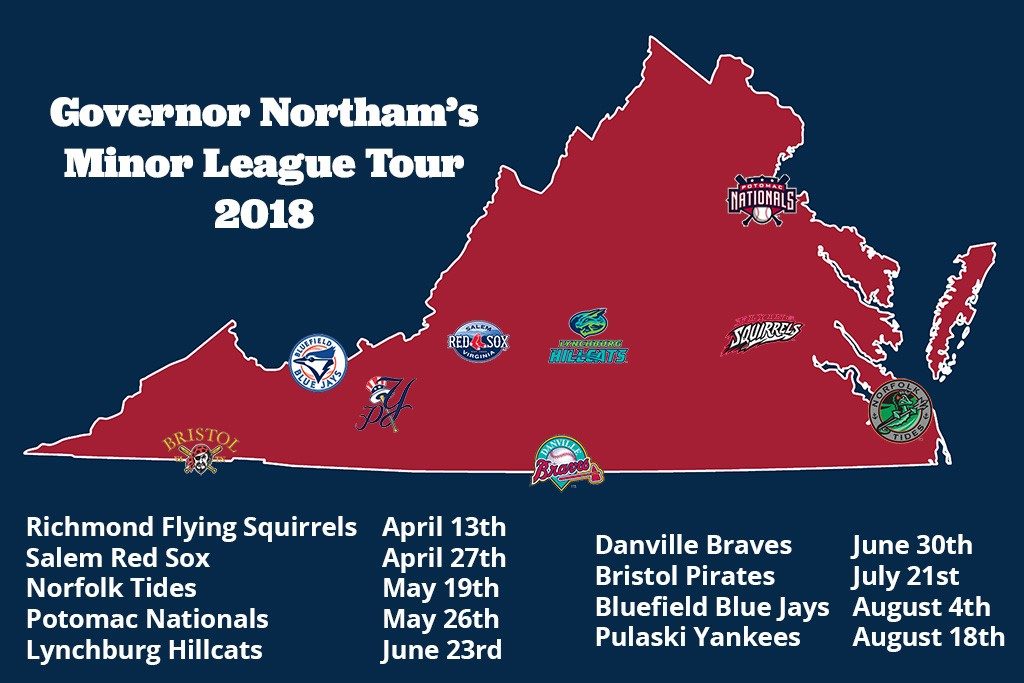 FOR IMMEDIATE RELEASE
Date:  April 13, 2018
Office of the Governor
Contact: Ofirah Yheskel
Email: [email protected]
Virginia Tourism Corporation
Contact: Caroline Logan
Phone: 804-545-5572
Email: [email protected]
Governor Northam to Throw First Pitch at Richmond Flying Squirrels' Home Opener
~ The Governor will also visit all nine minor league baseball teams in Virginia during the Summer of Baseball~ 
RICHMOND – Governor Ralph Northam will throw out tonight's first pitch at the home opener for the Richmond Flying Squirrels. The Governor will also be joined by MLB All-Star and World Series Champion Fred McGriff, whose baseball career spanned from 1986 to 2004 with teams including the Toronto Blue Jays, Atlanta Braves, Chicago Cubs and L.A. Dodgers.
The Governor's appearance at tonight's Squirrels game will kick off the "Summer of Baseball," a series of visits to each of the Commonwealth's nine minor league team stadiums to tout the importance of baseball in Virginia communities.
In addition to throwing out the first pitch, Governor Northam will present an official proclamation to the players and leadership of the Richmond-based baseball team, proclaiming April 13, 2018 as Flying Squirrels Day in the Commonwealth of Virginia.
"Baseball is known as America's national pastime, and that certainly rings true for the people of Virginia, as well," said Governor Northam. "Our nine minor league baseball teams are important contributors to communities across the Commonwealth, uniting friends and family and bringing Virginians of all ages together to enjoy a night out at the ballpark. Tonight's home opener is the perfect opportunity to celebrate baseball in Virginia. I encourage all Virginians to attend baseball games in their own communities and across the Commonwealth, and discover for yourselves why Virginia is for Baseball Lovers."
"The Richmond Flying Squirrels' home opener has become a centerpiece event in our capital city, and the entire organization is excited to have Governor Northam in attendance to deliver the first pitch of the 2018 season," said Flying Squirrels Vice President & COO Todd "Parney" Parnell.
Virginia boasts nine Minor League Baseball teams, with seasons traditionally running from April through September. For more information on baseball in Virginia, visit www.virginia.org/baseball.
Governor Northam's "Summer of Baseball"
April 13th – Richmond Flying Squirrels
April 27th—Salem Red Sox
May 19th—Norfolk Tides
May 26th—Potomac Nationals
June 23rd—Lynchburg Hillcats
June 30th—Danville Braves
July 21st—Bristol Pirates
August 4th—Bluefield Blue Jays
August 18th – Pulaski Yankees
About Virginia Tourism
Tourism is an instant revenue generator in the Commonwealth. In 2016, visitors to Virginia spent $24 billion, which supported 230,000 jobs and contributed $1.7 billion in state and local taxes. Plan your next vacation in Virginia. Visit www.virginia.org to find out more.
###