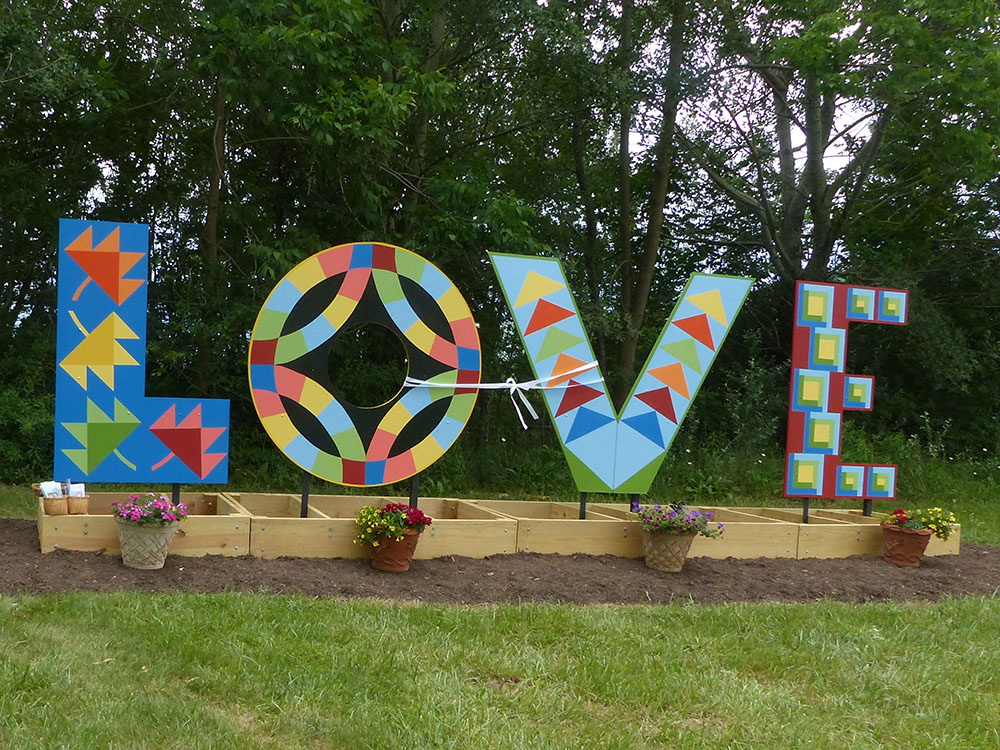 MONTEREY – Virginia Tourism Corporation announced today that the 50th LOVE artwork has been unveiled in Highland County. The artwork, inspired by the popular barn quilt patterns found throughout the county, is now on display at Rt. 220 South, near the Community Pool.
The artwork, commissioned by Virginia Tourism Corporation, is an extension of the 47-year old "Virginia is for Lovers" brand, and features giant LOVE letters in towns and cities across the Commonwealth. The LOVE letters, called LOVEworks, have become popular tourist attractions, inspiring viral posts on social media using the hashtag #LOVEVA. The Highland County LOVEwork is the fourth in the Virginia Mountains Region.
Each LOVEwork is a reflection of the community in which they stand, and the Highland County Barn Quilt LOVEwork is no exception. Each letter was carefully planned to represent the fabric of the community. Highland County Tourism Council Chair Donna Bedwell shared the meaning of each letter:
"L – Maple Leaf Quilt Block – Highland is known for its maple syrup, but this block also represents all we love about our natural resources. We are proud of our scenic views, pastoral landscapes, clean rivers, dark skies and our agri-culture;
O – Double Wedding Ring Quilt Block -This traditional pattern represents our love of family, pride of heritage, and the sense of community so evident in Highland County;
V – Flying Geese Quilt Block – We love our avian population in Highland County but also celebrate the many other species of wildlife found in our forests and streams. Our farm animals and pets are all dear to our hearts;
E – Log Cabin Quilt Block – Log cabins are a country icon, but this is also represents how we feel about home. Our history, architecture, and the simple values of a country life – these are things we love."
The creation of the LOVE letters was planned by the Highland Tourism Council and designed by barn quilt artist Margie Boesch. Funding for the materials was provided through Virginia Tourism's LOVEworks reimbursement program, a grant designed to help defray the costs of building the LOVE letters. More than 100 hours of volunteer time was donated to the creation of the letters.
The letters were cut out by Highland High School students under the direction of Tom Boxler.
The painting studio was set up in the vacant Ernie's Market building provided by owner David Rowe.
The patterns were painted by Margie Boesch, Donna Bedwell, Liz Devenny, Marion Ewald, Anna Maria Weierick, Lorraine White, and Carolyn Williams.
The support for the letters was designed by architect Bill Rich.
The metal supports were welded by Pat Hull.
The wooden box supports were constructed by Michael Bedwell, Bill Rich, and Dan Solomon.
The site was prepared by Highland County crew Richard Waybright, William Bear & Steven Mitchell. They also assisted in the installation of the letters along with Michael Bedwell and Dan Solomon.
To learn more about the LOVEworks program, please visit: virginia.org/love