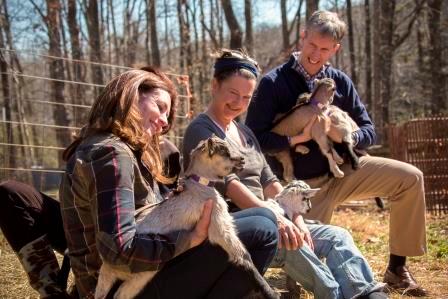 ESMONT – First Lady Dorothy McAuliffe and Todd Haymore, Secretary of Agriculture and Forestry, visited Caromont Farm last week to feed newborn baby goats as part of an ongoing commitment to promoting agritourism in Virginia. The First Lady and Secretary met with Caromont Farm's owner and cheesemaker, Gail Hobbs-Page, to learn about kidding season, the importance of locally-sourced food, and the farm-to-table movement in Virginia.
"Visiting Caromont Farm is a fantastic way to promote agritourism, which is an important and growing industry in Virginia," said First Lady McAuliffe. "My husband and I truly believe in the quality of Virginia's agricultural products. Farms like Caromont are producing good, wholesome, and delicious foods. They are also offering unique and important opportunities for visitors to come and learn about where their food comes from."
The Virginia agriculture industry generates more than $52 billion per year, and the agritourism industry is a fast-growing sector of the overall tourism economy in Virginia. Nationally, from 2007 to 2012, the number of U.S. farms engaging in some form of agritourism went up 42%, bringing in more than $700 million. As of 2010, agritourism accounted for $13 million in revenue for Virginia. Tourism in Virginia is an instant revenue generator. In 2014, visitors spent $22.4 billion, supporting 217,000 jobs and contributing more than $1.5 million to state and local taxes.
"The powerful combination of agriculture and tourism, two of the Commonwealth's largest private industries, is essential to building the new Virginia economy," said Todd Haymore, Secretary of Agriculture and Forestry. "Our small farmers, producers, and agribusinesses are creating wonderful opportunities for visitors-whether it's feeding baby goats, learning how to make cheese, picking your own fruit, or partaking in an oyster tasting tour with the watermen who grow them. These experiences bring visitors to Virginia's farms, orchards, wineries, and waters, but they also help families stay on the farm and bring more revenue to our counties and to the Commonwealth."
Caromont Farm offers several experiences for travelers, including farm tours, cheese-making classes, and farm dinners. The farm recently created a viral internet sensation after posting a call-out for volunteers to come snuggle and feed the nearly 100 baby goats, or kids, born in mid-February. Hobbs-Page said the response was overwhelming, with more than 2,000 volunteers signing up almost immediately.
"It was an incredible day for us at the farm. It was such an honor to show off our new baby goats and share our cheeses with the First Lady and Secretary," said Hobbs-Page. "Kidding season is a busy time on the farm, but it energizes and touches you and touches you in a way you simply cannot imagine. I think we all felt that."
To learn more about agritourism in Virginia, please click here.