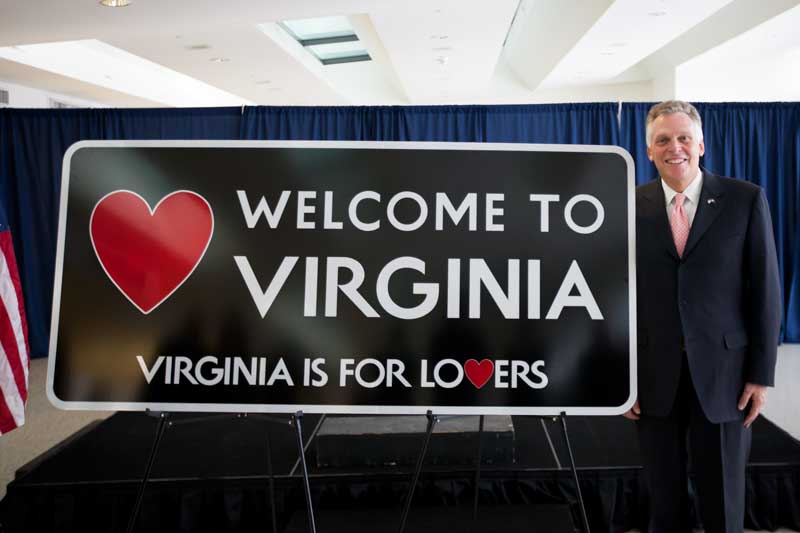 RICHMOND – On Jan. 6, Governor Terry McAuliffe unveiled a new "Welcome to Virginia" sign at Dulles International Airport (IAD), welcoming travelers to the Commonwealth of Virginia. Dulles, located 26 miles west of downtown Washington, D.C. in Loudoun and Fairfax Counties, is a major hub for domestic and international travel, servicing about 22 million travelers a year traveling to 83 nonstop domestic and 50 nonstop international destinations. The new signage is the first of its kind at IAD.
Speaking about the unveiling, Governor McAuliffe said, "In order to build a new Virginia economy, we need to continue to not only increase tourism, but attract new businesses and bring the Virginia story to new audiences. This new signage will welcome millions of travelers every year to our great Commonwealth, and it will serve as a reminder that wherever their travel through Dulles is taking them, they are always welcome to explore Virginia and its abundant business opportunities and travel destinations."
"Virginia is for Lovers is one of the most powerful advertising slogans in our country's history," said Secretary of Commerce and Trade Maurice Jones. "Having the Virginia brand here at a major international airport will connect travelers with the promise that Virginia offers a place to work, play and visit loved ones. Driving home our travel message at every gateway to the Commonwealth is imperative to increasing visitation and spending in Virginia."
"For travelers, now more than ever, there is a lot to love about flying to Dulles International Airport," said Jack Potter, president and CEO of the Metropolitan Washington Airports Authority, which runs the airport." At Dulles, we've created a speedier trip through customs with new self-service kiosks, a fresh new array of shopping and dining options, and better connectivity than ever to Metrorail with the Silver Line Express bus. We look forward to welcoming more visitors to Virginia and the National Capital Region – whether they are Dulles users or experiencing it for the first time."
Governor McAuliffe also announced that the Virginia Department of Transportation (VDOT) plans to gradually roll out a series of newly designed "Welcome to Virginia" signs at all 105 interstate gateways to the Commonwealth. The last design of the sign, depicting a large cardinal perched on a flowering dogwood, was rolled out in 2006, and many of these signs have reached the end of their usable lives due to visibility at night. The welcome signs should all be updated by the July 4th holiday.
"The newly designed signs will present a fresh new aesthetic to travelers entering the Commonwealth, one that reflects Virginia's modernity but also our rich traditions," said Aubrey Layne, Secretary of Transportation. "Every year motorists travel 81 billion miles on Virginia highways. The new signs will help connect them to the Virginia is for Lovers brand—and inspire future travel across the Commonwealth. VDOT worked in record time to begin replacing these signs."
The design of the signs at Dulles International Airport and interstate gateways are consistent with Virginia Tourism Corporation's (VTC) "Virginia is for Lovers" branding and logo, and will welcome travelers with a clean, modern aesthetic. VTC provided the design of the signs; VDOT will facilitate the production and installation.
The iconic "Virginia is for Lovers" slogan celebrated its 45th anniversary in 2014. The slogan was inducted into the Madison Avenue Advertising Walk of Fame in 2009, and was recognized by Forbes magazine as one of the top ten advertising campaigns of all time.
###
Tourism is an instant revenue generator in Virginia. Last year, visitors spent $21.5 billion, which supported 213,000 jobs and contributed $1.42 billion in local and state taxes. To learn more about visiting Virginia, go to www.virginia.org.