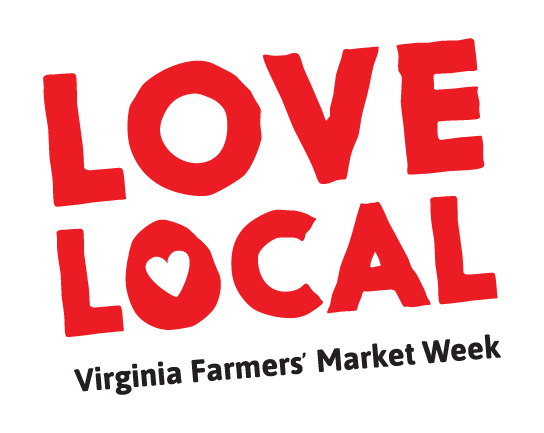 ~ VTC and VDACS encourage Virginians to buy local farm products during Virginia Farmers' Market Week, April 27-May 3, 2020 ~
RICHMOND – To support farmers' markets across the Commonwealth that are providing locally grown foods to our communities, Virginia Tourism Corporation (VTC) and the Virginia Department of Agriculture and Consumer Services (VDACS) have announced Virginia Farmers' Market Week, April 27 through May 3.
During this week, VTC and VDACS are encouraging Virginians to shop local at farmers' markets that are offering curbside pick-up, as well as no-contact delivery in order to continue providing fresh, local produce and other goods to their communities. Consumers are encouraged to go to VirginiaGrown.com to search for their closest farmers' market. Consumers should call ahead to learn about the market's current operation.
"Many Virginia farmers' markets are open for business as they have transitioned their operations to encourage social distancing and no-contact purchasing," said Dr. Jewel H. Bronaugh, VDACS Commissioner. "Farmers' markets allow farmers to sell their products directly to consumers. So when you shop at a local market, you are helping to boost your local economy."
"We hope that everyone who is able will participate in Virginia Farmers' Market Week," said Rita McClenny, President and CEO of Virginia Tourism Corporation. "Virginians will see all the fantastic food options that are locally produced and how important they are to localities and their citizens especially during this time."
With nearly 300 throughout the Commonwealth of Virginia, farmers' markets provide important connections between farmers and consumers. Farmers and specialty producers find markets to be a valuable sales channel for their products, boosting the local economy and providing direct support of agricultural crops. Consumers are able to shop fresh, local products and enhance their understanding of food sources and the importance of agriculture. Communities also benefit from the shared marketplace experience and can improve overall community health through access to fresh produce.
While farmers' markets are still open in Virginia, they look a little different as we enter the 2020 season. The novel coronavirus, or COVID-19, has had an impact on farmers' markets and their typical business models. In order to achieve social distancing requirements while continuing to serve as a valuable source of nutrition for the public, many markets have shifted to alternative sales methods. Some markets now offer online pre-ordering and pick-up or delivery service. Others have modified their markets to allow limited walk-through traffic with prepacked produce options. Both farmers and markets have quickly adopted new ways of doing business by utilizing e-commerce strategies and developing alternative solutions for logistics, packaging, and conducting transactions. Markets across the state have embraced these changes according to the needs and unique nature of each community while continuing to provide their patrons with healthy, nutritious food options.
Customers are encouraged to avoid traveling if sick, maintain at least six feet distance from others and to wash hands often.
VTC and VDACS will partner with destinations across the state to help encourage the support of local farmers' markets across the Commonwealth. Participating partners and consumers should use the hashtags #VirginiaGrown and #VirginiaFarmersMarketWeek, and tag @VaAgriculture or @VisitVirginia when posting on social media.
For photos of Virginia farmers' markets visit, the VDACS Flickr album or the VTC photo library.
For the Virginia Farmers' Market Week logo, click here.
About Virginia Tourism Corporation
Virginia Tourism Corporation is the state agency charged with marketing the Commonwealth as a premier travel and film destination. In 2018, visitors to Virginia spent $26 billion, which supported 235,000 work opportunities and contributed $1.8 billion in state and local taxes.
About Virginia Department of Agriculture and Consumer Services
The Virginia Department of Agriculture and Consumer Services promotes the economic growth and development of Virginia agriculture, provides consumer protection and encourages environmental stewardship. Headquartered in Richmond, the agency has several field offices, four regional diagnostic animal health laboratories and a global network of representatives promoting Virginia products internationally.