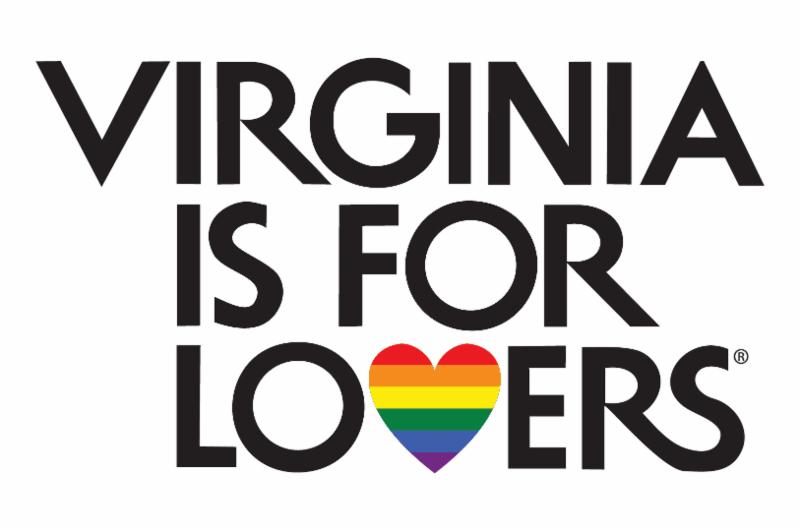 RICHMOND – Today, Virginia Tourism Corporation (VTC) announced the official launch of its new LGBT tourism marketing efforts. The implementations, including a brand new landing page for LGBT travelers and Virginia is for Lovers PRIDE merchandise, are part of the recommendations offered by Governor Terry McAuliffe's LGBT Tourism Task Force. The task force, comprised of 21 community leaders and supporters of the LGBT community from across the Commonwealth, met in 2015 and was charged with delivering recommendations to help inspire lesbian, gay, bisexual and transgender travelers to visit Virginia by promoting the state's welcoming and safe destinations as well as inclusive experiences. The announcement precedes this weekend's Virginia Pride Festival, where Virginia is for Lovers PRIDE merchandise and a signature LOVEwork will be unveiled. The PRIDE logo is comprised of the classic Virginia is for Lovers logo, with the traditional red heart replaced with a rainbow heart. Virginia is one of the few states in the nation to launch such efforts.
"Virginia is proud to be an open and welcoming destination for every visitor attracted by our scenic mountains and beaches, as well as our world-renowned restaurants, wineries and breweries," said Governor Terry McAuliffe. "I am pleased the Virginia Tourism Corporation has created this landing page to connect travelers with inclusive, LGBT-friendly establishments across the Commonwealth. Virginia is truly for lovers, and we hope you have an unforgettable experience visiting the greatest state in the greatest nation on Earth!"
LGBT travelers and their families can now visit www.virginia.org/LGBT to discover listings around the Commonwealth that highlight lodging, restaurants, retail stores, and other attractions that have designated themselves as LGBT-friendly and welcoming. The landing page also features places for LGBT couples to get married or honeymoon, as well as family-friendly destinations. Additionally, there is a welcome video from Governor McAuliffe.
"A vacation in Virginia is all about doing the things you love to do with the ones that you love, and we are thrilled to offer this new resource for the LGBT community, their friends, and their families, to help them plan the perfect vacation in Virginia," said Rita McClenny, president and CEO of Virginia Tourism Corporation. "Travelers to Virginia can experience our legendary historic attractions, more than 280 wineries and 160 craft breweries, outdoor recreation, amazing dining scene, the arts, beautiful beaches, and so much more. We look forward to welcoming all travelers to the Commonwealth to discover for themselves why Virginia is for Lovers."
VTC has also created an LGBT Tourism Resource Guide for the travel and tourism industry in Virginia. The resource guide provides support and direction on how to leverage VTC resources, utilize lead resources, and strengthen partnerships. The guide also features a case study on the successful OutRVA, which first launched in 2014 by Richmond Region Tourism and community partners. For more information on the resource guide, please click here.
Tourism is an instant revenue generator in Virginia. In 2015, domestic travelers spent $23 billion in the Commonwealth, which supported 223,100 jobs and contributed $1.6 billion in state and local taxes. LGBT travelers are an important market for tourism in Virginia, and make up nearly 2% of the U.S. market. LGBT travelers spend an estimated $57 billion in the U.S. annually. 5% of travelers to Virginia identify as LGBT. LGBT travelers in Virginia spend more and stay longer compared to all travelers in Virginia.
Plan your next vacation in Virginia! Visit www.virginia.org/lgbt.