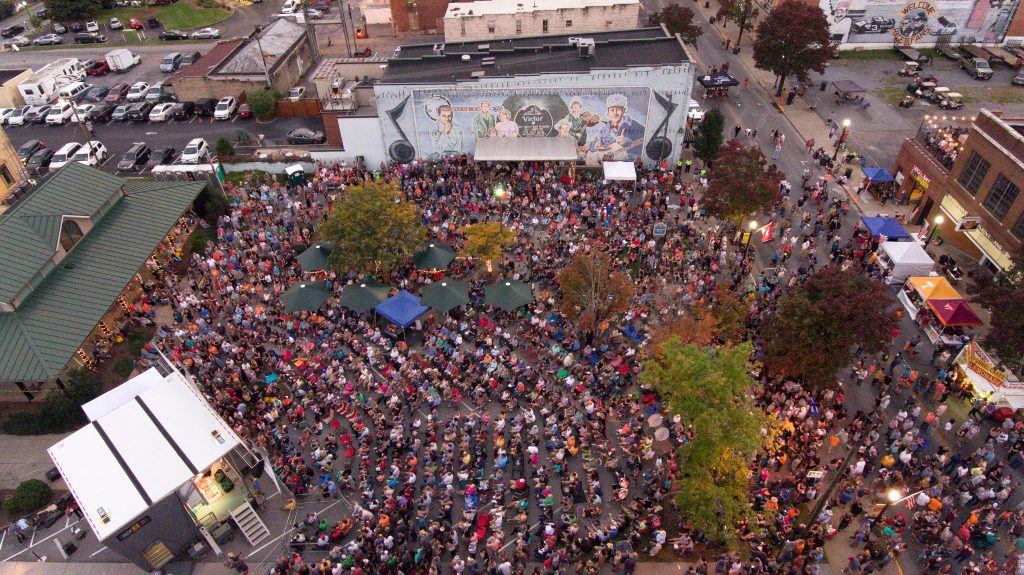 Due to the coronavirus (COVID-19) situation, openings, events and other information on this page may be canceled or postponed to a later date. Please check with the individual location or business for more details.
Home of the Birthplace of Country Music, the Blue Ridge Highlands region in Southwest Virginia echoes with the passion of history's most dominant country music pioneers. Annual festivals, historic venues and nightly jamborees celebrate Virginia's global influence, creating a rich musical soundtrack for all travelers – whether meandering along winding roads, or venturing out onto scenic rivers and trails.
WHAT TO DO
Abingdon's first ever Restaurant Week will kick off at the Barter Theatre on Wednesday, March 4 with Southwest Virginia native and celebrity Chef Sean Brock. Chef Brock will sign copies of his new cookbook South: Essential Recipes and New Explorations, and discuss his career, his philosophy and Abingdon roots.
A new and innovative concert venue is coming to tradition-rich Bristol Dragway. The legendary dragstrip, which has showcased the world's fastest race cars and iconic drag racers, will now add a new chapter to its legacy when it moonlights as a premier outdoor concert venue known as the Thunder Valley Amphitheatre at Bristol Dragway.
In September 2020, one of the country's best music festivals and America's night race are teaming up to offer an unforgettable experience in Bristol. The Rhythm and Racing Super Ticket includes a three-day weekend pass to Bristol Rhythm & Roots Reunion music festival and a three-day ticket to all the races at Bristol Motor Speedway, including the Bass Pro Shops NRA Night Race.
Built in 1902 and beautifully restored, the Rock Room at the Bristol Train Station was remodeled and opened as a micro-wedding venue in October 2019.
The Buffalo Hemp Company opened a retail outlet in the Town of Floyd offering organic CBD products that are grown and processed in Floyd.
A new cycling event, The Appalachian Journey, will take place April 11 in Floyd County, one of the least populated and highest mountain plateaus east of the Mississippi. Three cycling trails, ranging from 36 miles to 110 miles, will suit any rider.
Four new boat landings and river access points will be added to the The New River Water Trail in Giles County in 2020.
In spring 2020, GearHead Moto Tours will be offering all-inclusive adventure motorcycle tours throughout Southwest Virginia.
Patrick County Trail Hands brings art and trails together to engage visitors in a meaningful and unique experience. In addition to hiking, each experience includes the opportunity to learn more about the heritage, arts, nature, dreams and stories of the local community.
The Patrick County Barn Quilt Trail was designed to connect with barn quilt trails in neighboring counties to promote tourism.
A new public art trail in Radford encompasses murals and art museum exhibits, with temporary and permanent pieces throughout Radford.
The Wonder Universe: A Children's Museum opened in late 2019 in the New River Valley Mall in Christiansburg.
Blacksburg Mountain Biking Skills Park opened in July 2019 with a climbing tail and beginner and intermediate flow trails.
The Virginia Highlands Festival and William King Museum of Art are hosting a special opportunity for artists April 23-25 in Abingdon. "Plein Air Abingdon" is a plein air paint-out and pop-up gallery for creating new work, selling work and networking with fellow artists and creators.
WHERE TO EAT & DRINK
WHERE TO STAY